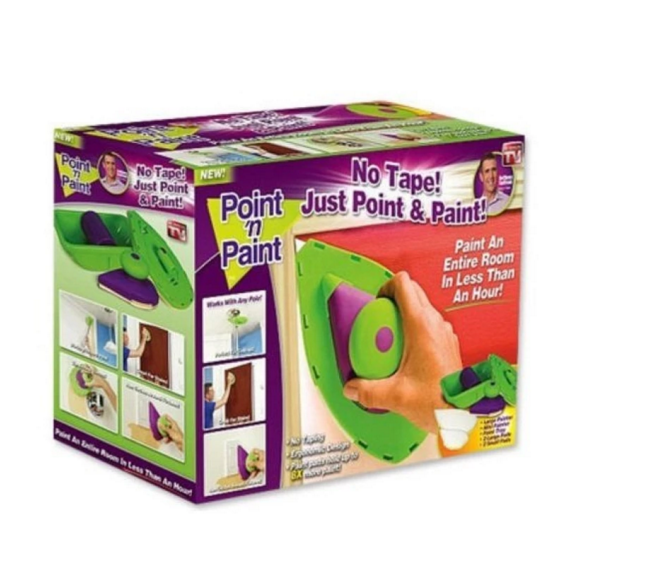 POINT n PAINT Painting System Kit AS Seen ON TV
DIY POINT n PAINT Painting System Kit No Tape Just FAST Easy Clean
Point 'n Paint – No Tape! Just Point & Paint. Paint An Entire Room In Less Than An Hour!
Point 'n Paint painting tool is the solution for DIY painting. No longer you have to tape your corners to really get in there and paint. Paint an Entire Room in less than an hour with Point and Paint! Point n Paint is the easy-to-use, no tape system that lets you glide and paint along moldings and fixtures, and get into corners with no hassle. It saves time and there is no masking or taping needed.
The Point 'n Paint will make painting easier than it has ever been before. This product is basically a new paint roller system developed so that you can paint easier and faster without any tape. Simply open it up put the paint in and then rubs the paint on the walls you wish to paint.
The Point 'n Paint is also designed so that it can hold 5 times more paint than any conventional roller head plus can glide perfectly along corners, zips, moldings or even paint circles around features without making a huge mess.
Features :
No taping

Perfect for Ceilings

Great for Stains

Run circles around fixtures

Point 'n Paint roller holds 5 times more paint than normal paint-rollers

The pad works great on any surface, textured or smooth.

Works with any pole, making it ideal for painting hard-to-reach places and ceilings

With its revolutionary no drip design, it keeps paint off the floors and on the walls with professional results every time!
Package Content :
1 X Large Painter

1 X Mini Painter

1 X Paint Tray

2 X Large Pads

2 X Small Pads

1 X Manual